WordPress Site Backup
Have you ever thought that if something happens to the content and data of your WordPress site suddenly, what will you do?
It is common for all bloggers and webmasters to think so, because we use web servers to host our WordPress site and can cause data loss of our site anytime due to any disturbances. Apart from this, installing a new plugin in your WordPress site or setting a setting, sometimes your site does not work properly and you can not do it again on your site.
So what to do in this?
Its a simple solution, we must take backup of our WordPress site from time to time. The advantage of this will be that if any kind of disturbance comes to your site in the future due to any reason, then you will have a backup and you will easily be able to make your site as usual. Today in this article, I will tell you how you can easily get a complete backup of your WordPress site and how to use it when it comes time to make your site as usual. So let's start.
UpDraftPlus Plugin:

Take a backup of your WordPress site in a few seconds

We are going to use a very popular plugin to take a backup, which has 1+ million active installs in the wordpress official plugin directory and also has a 5 star rating. The name of this plugin is, UpDraftPlus This is my favorite backup plugin and available for free in all. The most important feature of this plugin is that it gives you the option of saving your site full after use use your web server, as well as many other places like cloud drives.
To know more about this plugin, click on the link below. You have to download, install and activate this plugin in your WordPress Blog or Site.
In the left pane of your WordPress Dashboard, simply go to Settings> UpdraftPlus Backups. Options will display in front of you in the screenshot shown below.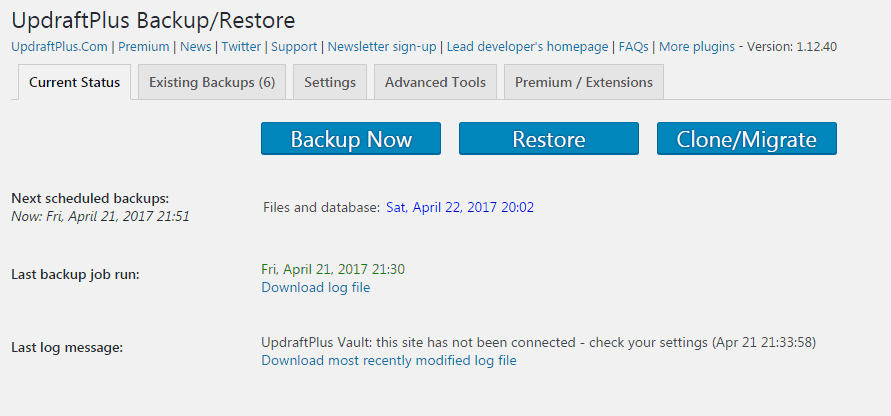 By clicking the Backup Now button you can immediately begin backing up your site. You can restore your old backup by clicking on the Restore button. The Clone / Migrate option comes in handy if you want to clone or migrate your entire WordPress website by using this plugin, on any other server.
Second tab is something like this, which has the option of restoring your previous backups and the option to download their individual type of files to your PC.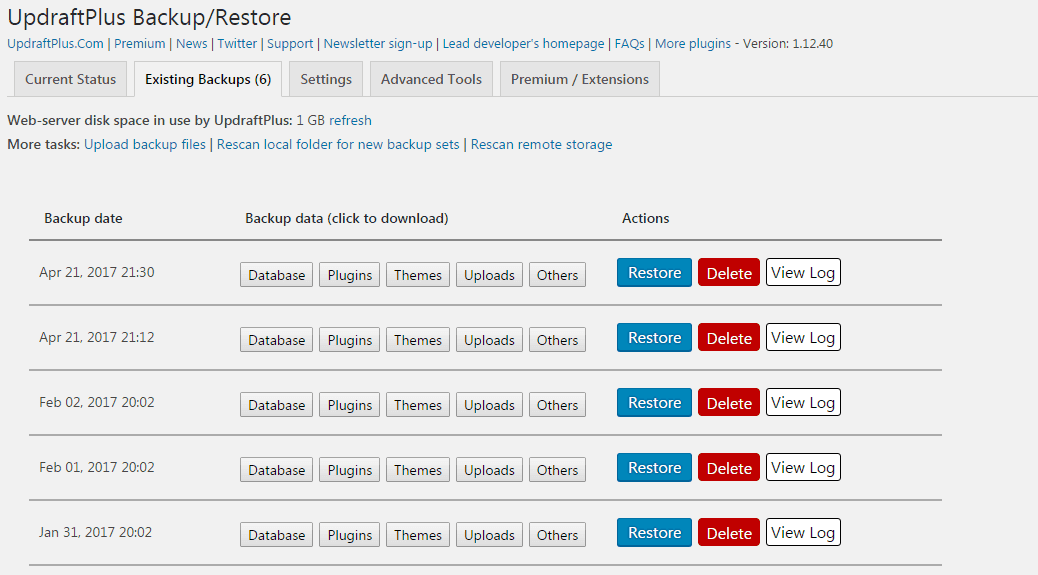 The first thing you need to do to get started with this plugin is to go to the third tab of the Settings tab. The Settings tab is shown in the screenshot below.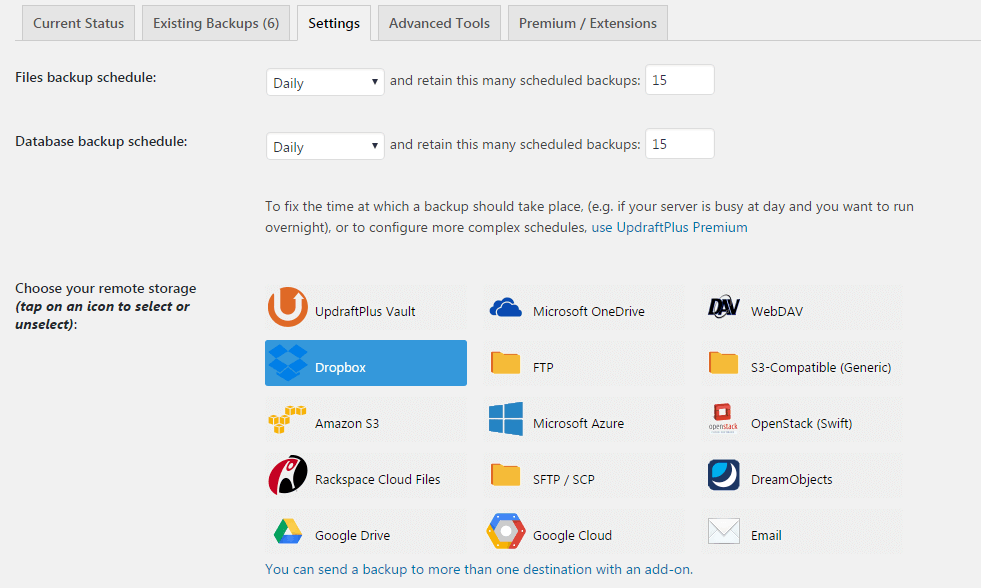 The first option is, Files Backup Schedule. In this you have to setup how much frequency this plugin will take to backup your WordPress website. As you can see, I have been selected Daily here. You can set anything according to your convenience. And immediately after it is written retained this backup for ___ Days. In it you have to write down how long it will save your backup. As you can see that I have written 15 here. This means that the backup which I will take today, will save it for another 15 days.
Thus, I have at least 15 backups at all times. When there are more than 15 backups, the first backup is automatically deleted from the server store. Now it comes to where it stores your backups. You can choose it. You can see that this plugin gives different options to store backups, such as on your server (which is by default setting). Whether you want to save your backups in Google Drive and drop boxes, and also in cloud drives. All you need to do is authenticate the cloud drive with this plugin in which you can save your backups.
You do not need to change any of the settings provided on this page. Let all the other settings remain as they are. If you are an advanced user, you can also modify these settings according to your own.
I'm assuming that you have configured this plugin and now you are ready to backup.
By the way, if you have set up this plugin for automatic backups in settings then you do not have to do anything. It will continue to take backup of your WordPress site according to the frequency you set, and you can also restore it by clicking on the red color restore button if needed.
If you want to take instant backup at any time, you just have to click on the Backup Now button in the first tab and it will start taking backup of your site and will take full backup in some time. Its speed depends on your webhosting. Its process is also shown in the screenshot given below.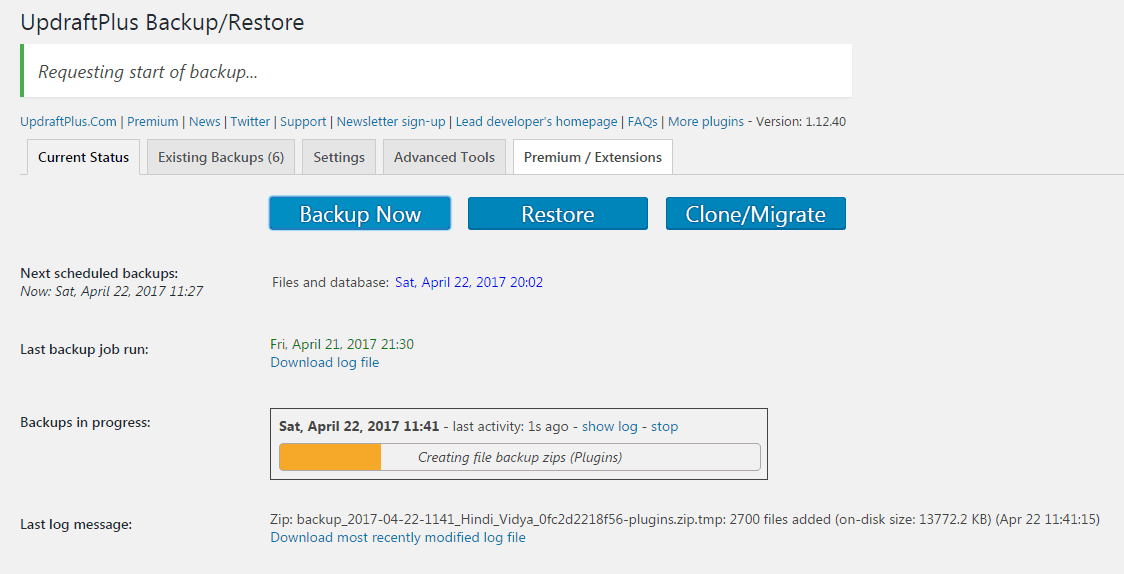 So I hope you all will be able to take a backup of your WordPress site now. There are many exiting features in this plugin, as you can also send your backups to multiple locations. For that, you have to buy another extension of $ 20. You can learn more about this on their website.